As a member of the British royal family, Kate Middleton attracts a significant amount of attention from the general public. Her style – from her outfit choices to her makeup – remains a constant topic of discussion.
To be camera-ready at all times, the Princess of Wales makes sure to follow two particular beauty rules for members of the royal family, according to professional makeup artist Saffron Hughes.
Woman & Home noted that royals typically avoid wearing bright and bold lipsticks when attending engagements. While there could be occasional deviations from this norm, Hughes pointed out to the outlet that Middleton steers clear of vibrant lip colors.
The makeup artist noted that Prince William's wife sticks to neutral and light pink shades.
The reason for this, however, goes beyond her preference for subtle looks. This smart choice, according to Hughes, is to avoid a wardrobe malfunction.
"Bright lipstick can easily lead to a wardrobe malfunction, such as transferring to clothes, your teeth or even just looking two harsh against the skin," the beauty expert explained.
(Photo : Getty Images/Zac Goodwin – Pool)
Catherine, Princess of Wales watches Katie Boulter in action against Daria Saville on day two of the Wimbledon Tennis Championships at All England Lawn Tennis and Croquet Club at All England Lawn Tennis and Croquet Club on July 4, 2023 in London, England.
Another beauty rule that Hughes believes the royal family follows is to not wear heavy eye makeup.
Although she occasionally wears a dramatic smokey eye for special occasions, Hughes said Middleton goes for barely-there eye makeup for royal engagements, favoring neutral eyeshadow tones.
According to the makeup expert, the rationale behind this could be that heavy eye makeup tends to smudge or wander beneath the eyes as the day progresses.
"Heavy eye makeup has a habit of straying underneath the eyes throughout the day, meaning wearing it at royal meetings wouldn't picture well," Hughes explained.
While Middleton may tend to lean toward subtle makeup looks, she complements this with carefully selected jewelry.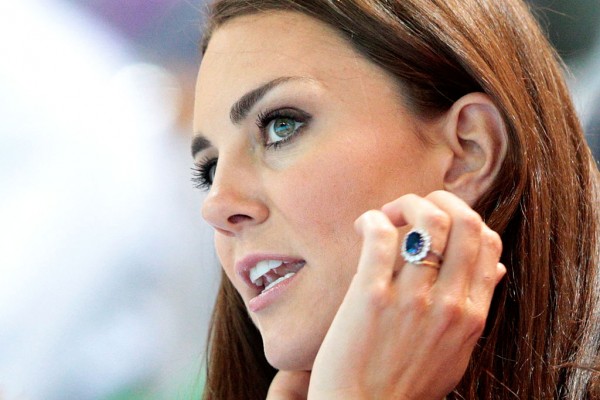 (Photo : Getty Images/Adam Pretty)
Catherine, Duchess of Cambridge watches the Women's Teams Synchronised Swimming Technical Routine on Day 13 of the London 2012 Olympic Games at the Aquatics Centre on August 9, 2012 in London, England.
The duchess often pays homage to her mother-in-law, Princess Diana, and Queen Elizabeth II through fashion and jewelry. For instance, Middleton has donned the Lover's Knot tiara, a beloved piece once worn by Princess Diana, to several state occasions.
The Princess of Wales was also photographed Wednesday sporting a pair of sapphire and diamond drop earrings that previously belonged to her late mother-in-law.
Bethan Holt, fashion news and features director of The Daily Telegraph, told People, "Kate uses fashion to pay tribute to Diana in a very positive way, and we've seen intentional references in her choices."